Book A Demo
Want to make sure Well Kids is right for your Practice?
Book an online demonstration to see the Well Kids Program in action
A Package To Suit Every Practice
What's Included?

Your Licence Fee + active monthly installments include;

1
Unlimited Practice Locations when listed under the one Company Profile.
2
Unlimited Kids Reports & Care Plans!
3
Online Initial Consult Forms for Parents
4
Access to the Well Kids Learning Centre & Training Videos
5
Online Training for Staff & Chiropractors
6
3 x Implementation Calls @ Time Of Set-up
7
Access to Well Kids App. & Statistics That Help You Manage Your Associates & Practice
8
Exclusive Facebook Group
9
Free Ongoing Support
(Email or Phone)
10
All Digital Files of Well Kids Program

Well Kids Forms
Age Specific Developmental Exam
12 x Exercise Sheets for ages 0-12+
8 x unique Parent Handouts - Home Care
14 x unique Parents Handouts - Nutritional Support
Well Kids Health Booklets

11
Multiple Device Access
12
incl. Latest Program Upgrades and Paperwork Updates as industry standards & research changes
How you get Results with the Well Kids Program.
The Well Kids Program is a results and goal orientated program. It helps you get results. You are about to deliver more in less time, provide detailed examinations, be able to know exactly how children improve under your care, pick up on patterns quicker than ever, identify the small changes before they become big and ultimately wow the families you take care of. We are so excited your practice is joining the Well Kids Family. It is an internationally diverse group of chiropractors wanting to change the world and not get weighted down the paperwork and procedures. Learn now, implement tomorrow & change lives for the better.
Can I Get Started Right Away?
Yes! You will be able to get started immediately with the Well Kids Program after registration. Simply choose your practice size below and follow the prompts. All you need is a valid credit card for initial payment of the Licence Fee and the online access yearly / monthly installments.
Upon registration each company will be granted a Practice username and password, and then each Chiropractor will have an individual Chiropractors username and password emailed to them when added.
Does Training Take Long?
No. Training your team to use the Well Kids Program does not take long. The videos inside the Well Kids Learning Center range from 3 to 8 minutes with bonus training recordings to be used by chiropractors once using the program ranging from 20 to 45 minutes.
Your company is gifted with 1.5 hours of complementary individualised training via Skype with one of our Well Kids Team members. We recommend you use this time over three 30 minute sessions.
Our suggestion is a 30 minute planning session with you and your managers
A 30 minute Chiropractors session to review any questions
A staff session to get the best results at the front desk
The Well Kids Exam provides practices with a thorough, age-specific consistent exam that is designed to measure the chronic and acute variances from optimal or normal health scores. The time to learn the exam varies depending on each chiropractors level of paediatric post-graduate training. For experienced chiropractors, learning the examination procedure simply requires some revision and orientation of the paperwork.
The examination includes primitive reflexes, postural reflexes and other developmental tests that may be new for recent graduates. If the chiropractor has not experienced post-graduate paediatric training our videos, exam explanations and the example case studies supplied ensure each chiropractor is up-to-date in no time.
Free Ongoing Support
Well Kids provides free ongoing support for you and your practice. Simply send Well Kids Headquarters an email or give our office a call and we can answer any questions or queries you may have about the program or its use in chiropractic practice management.
Office Hours for phone calls are Mondays & Thursdays 9am to 5pm (Sydney, NSW Australia time), although you may leave a message anytime for our team to call you back. Our team aim to answer emails daily. A private Facebook group provides ongoing support for chiropractors outside of business hours.
Program Investment
A Well Kids Program License for your company is $2794 (incl gst), giving your team full access to the Well Kids Program paperwork to download and online training program. The ongoing fees for the Program gives you access to the Well Kids Application where all your reports and care plans are generated and you can generate reports to better manage the trends and statistics in your practice. This can be paid monthly or yearly and start from $99 per month (Only $25 per week) for a practice of 1-2 Chiropractors.
Multi-Practice Company?
If you run a company with more than one practice, you only need one product license. The total number of chiropractors working under your company name will tell you which option below is for you. Share the company's Practice username and password with each of your managers to provide access in all locations.
Current User? Ready to Update to the Online Version?
Are you a current user of the Well Kids Program? If so, you have already purchased the Product Licence and will require a manual set-up by Well Kids Headquarters. Click HERE to email us so we can set up your account. We will give you a call to finalize set-up. All you need is a valid credit card for the monthly online access.
Easily Upgrade - Add More Users?
If your practice is booming and you need to add more chiropractors, its simple to do. All you have to do is email us and will will bump you up into the next licence level if necessary for your next monthly installment run, or pro rata the yearly payment accordingly.
Easily Downgrade - Remove Users?
Maybe you have a Chiropractor who is leaving at the end of the year. Or you have decided to reduce the number of chiropractors practicing under your company. Simply email us to let us know that you need to downgrade your licence size and we can make the updates available to your next billing cycle.
Change of Registered Chiropractors
If you have a change over of staff in your practice, no problem! A quick email to let us know that you will be needing to change a Chiropractor's name in the system and we can organize that for you. Be reassured that your company data is safe. You can request access to the Application be locked if you ever feel it is necessary.
System Requirements
The Well Kids Program works as a cloud based program, you will need internet access to use the program's online Application.

For best results we recommend the following;
Wireless Internet Access
Minimum 2 Computers - one for use at reception & one for Chiropractors
Printer (colour preferably) or access to a printing house eg. Office Works
Optional: iPad or Tablet for parents to use if they are filling out the initial consultation form in your reception area

Our Risk Free Garantee
The Well Kids Program gets results when implemented as a whole. Our mission is to support you to not only do an even better job in practice with families, but also enjoy the difference a well thought out and designed product will do for your retention rates, practice growth and as part of your chiropractic business plan. We invite you to test drive the Well Kids Program for 90 days. Risk Free.

IMPORTANT NOTE: We require you to provide evidence of your completion of training and implementation in practice. Why? Because we know that when you do the training and take action with the Well Kids Program, you'll get results. If you do complete the full Well Kids training, implement the program fully in your practice, begin using the program with children new to the practice and existing clients and you don't see value, positive change or better conversion results, we will happily refund your money. Simply email our team with your concerns and provide us with photocopies of your completed examinations, care plans etc within 90 days and we'll happily refund you.
Book A Demo
Want to make sure Well Kids is right for your Practice?
Book an online demonstration to see the Well Kids Program in action
What Each Term Means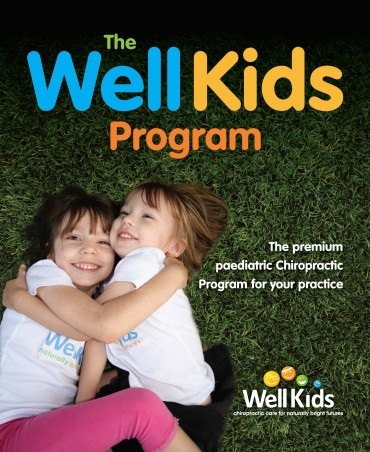 Company Licence
What does the Company Licence Include
The Company Licence is granted upon successful registration of the Well Kids Program and entering of a valid credit card for ongoing payments. Multiple locations can be set-up under the Company Licence, provided the billing address is the same. The company licence includes the following:
Access to the Learning Center, the training area for Well Kids Chiropractors and their staff
3 x Implementation Calls
All Well Kids Paperwork for Download
Full Terms of Service & Privacy Policy
Our Plans
We Grow With You
Choose a plan that suits your practice needs now. Seamlessly add new chiropractors as your practice grows or replace chiropractors if your associates change.
Monthly Fee
Your online stats & numbers
This monthly fee give you access to the Well Kids online App. This app provides you with your statistics, online questionnaires and paperless reporting and care plan system. See how many kids you have under care, what level of care they are up to, when progress reports are due and overdue.
READY TO GET STARTED? GET IN TOUCH TODAY! ~ INFO@WELLKIDS.COM.AU ~ +61 2 4044 2900